Gallery One
Adorn thyself with beauty ...
Click on any thumbnail for a larger view and information about the piece











Delica Beads loomed in many colors.
Body is 4.12" Wide by 6.5" ng
Overall length is 17.5"
One of a kind only!
Art Deco Choker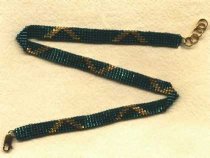 14 kt gold beads on a background
of kelly green

Lenth= Adjustible from 13 1/2 " to 13 3/4"
Width= 5/16"

"A life without Art is like a ship without oars" -- Anon.