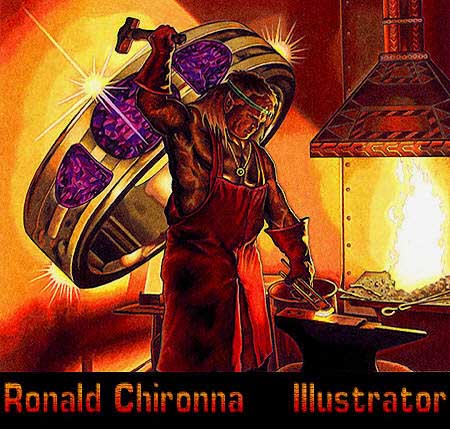 Dwarven Ring of Barin's Tribe (colored pencil art for the Middle-earth card game).
Original art is not currently for sale.

PURCHASING AND BACKGROUND INFORMATION

Purchasing Information
If you wish to contact me either to commission an original illustration or to buy an existing one, please see my contact information listed at the bottom of every page on this web site. I am open to negotiation in both cases. However, I do have minimum fees and purchase prices, below which there is no longer room for compromise. Included with a fee for a commissioned illustration, I expect a contract and/or purchase order, a reasonable amount of time to do research for the job, and an equally reasonable amount of time to do sketches and the finished piece. I will provide ideas for an illustration assignment when requested, sketches, an invoice, and a professionally done finished piece that will meet your deadline. Many of the illustrations I have produced are also available for second rights use. That is, they have already been used other places, but can be used again at a considerably lower price.

Most of the pieces you've seen on these pages or on my promotional sheets or cards, are for sale. If you come across something you'd like to own, please contact me and I'm sure we can come to an agreement that satisfies us both. If you want a certain piece of artwork framed first, I can have that done also. Framing, shipping, and insurance charges will be added onto the price of the illustration. Under most circumstances I will not be selling you the copyright along with the original illustration. If you wish to own the copyright to a particular piece, assuming I have control of the copyright, there will be a substantial additional charge. In addition to being able to pay me using a personal check or bank check, you can now use the services of PayPal to pay me safely and securely.
Prints are available for most of my artwork on 8.5" by 11" glossy photographic paper for $15.00. Prints are open edition (unnumbered) and signed. Shipping is included in price. Just e-mail me to place an order. I'm very happy to sign collectible gaming cards that are sent through the mail. Send no more than 20 cards at a time. Please include a self-addressed, stamped envelope to make getting them back to you as effortless as possible, and if you're mailing from another country, please include enough postage to cover the return trip. This usually entails purchasing two postal coupons. Allow 1-4 weeks for cards to be returned. I can't be responsible for cards lost or damaged through the mail. I also have some signed artists' proofs left of the four cards I did for Magic: the Gathering. I sell them for $5.00 each, including postage. You can send me an order by e-mail or regular mail.

My Background Information
Clients:
American Bankers Association, Arthritis Today, Arthur Young & Company, Awe-Struck E-Books, Book-of-the-Month Club, Business Week, CBS, Children's Better Health Institute, CMP Publications, Computer World, Consumer's Digest, Cook Communications Ministries, Cricket Magazine, Del Rey Books, Houghton-Mifflin Company, The Humanist Magazine, Kiwanis Magazine, LazerBooks, Management Reports, Medical Economics Company, Mountainview Publishing Company, National Law Journal, Planned Parenthood, Scholastic Company, Staten Island University Hospital, and Teen Quest Magazine.

Fantasy/Science Fiction/Gaming Clients:
Analog Magazine, Asimov's Science Fiction Magazine, Deadlands:Doomtown collectible card game, Dune collectible card game, Magic:The Gathering collectible card game, Legend of the Burning Sands collectible card game, Legend Of The Five Rings collectible card game, Middle-earth collectible card game, Neverworld-A Lifetime Experience role-playing game, Science Fiction Age Magazine, 7th Sea collectible card game, and The Way Of The Unicorn role-playing game.

Techniques:
Color---colored pencils; pen and ink with colored ink washes; pencil and colored ink combination.
Black and White---pencil; pen and ink; pen and ink with grey washes; pencil with grey washes.

Education:
B.F.A. in Communications Design/Illustration, May, 1976, Pratt Institute, Brooklyn, New York. Graduated summa cum laude.

Awards:
1997 Judges' Choice at Lunacon '97 Art Show.
1996 Readers' Poll, Asimov's Science Fiction Magazine, Best Interior Illustrations.
1986 Certificate of Distinction, Art Direction Magazine, Creativity '86.
1982 Certificate of Recognition, The Associated Church Press.

Memberships:
Society of Children's Book Writers and Illustrators

Artwork Samples Available In:
American Showcase volumes 12, 13, 15.
Directory of Illustration volume 13.
RSVP volumes 1, 4, 6, 7, 8, 9, 10, 12, 13, 16.
Stock Illustration Source volume 3.

Please click below for My Home Page.


Please click below for Editorial, Book, Magazine, and Portrait Art.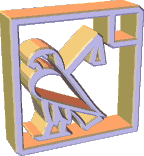 Please click below for Fantasy, Science Fiction, and Gaming Art (including a gaming art pricelist).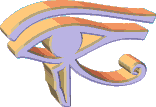 Please click below to send me E-Mail.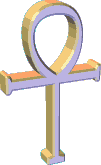 Ronald Chironna
122 Slosson Avenue Second Floor
Staten Island, New York 10314 USA
Telephone: 718-720-6142
E-Mail: art@ronaldchironna.com

Thank you once again for visiting. Please return as often as you'd like. From time to time I will be changing the artwork and information contained on these pages to keep us all up to date.


Copyright Ronald Chironna 1997-2004. The images and content of this web site are copyrighted, with all rights reserved to Ronald Chironna. Copying or distributing the material on this web site without prior written permission is strictly prohibited.

For Mrs. K, Alan, Lisa and Ava.