Classes and Workshops
Please select any of the items below for more information.
Do you have more questions? Feel free to send email. Just click on the email button below.
---
---
Watercolor Classes and Workshops
Lynn Zachresonhas a B.A. in Studio Art from San Jose State University and has been working with watercolor for over 20 years. She has been teaching watercolor in the Monterey Bay Area for the past 8 years. Her work has been displayed throughout California, Oregon and New Mexico. Her watercolor, Magnolia Nude was represented at the 1995 United Nations' Global Focus on Women Conference in Beijing China.
Exploring Creativity with Watercolor
The intent of the Exploring Creativity with Watercolor class is to create a space where participants will be able to discover aspects of their creativity by using basic watercolor techniques and simple group exercises. Students can develop skill with wet wash, dry wash, color-mixing, and texture. Working from still life, dreams, memories and live models, students can begin to discover what describes their own creative spirit.
"By engaging with creative process, and noticing our relationship with what comes forth, we can begin to know our inner voice and strengthen our connection to creativity in our lives." L.Z.
To find out more about workshop schedules, please use the email connection below.
Top of Page
---
Sacred Space, Creative Space: Watercolor and Ritual
The intention of this workshop is to allow participants the opportunity to explore and honor the creation of sacred space and artistic expression. This workshop is designed for anyone who has felt a desire to create and to find inner direction. Artists who have achieved competency in technique and those who are trying watercolor for the first time will discover new ways to work with watercolor and new insights into their relationship with their own creative spirit.
The workshop begins with the creation of a group mandala. Creating the group mandala is a ritual of placement, of attention, and noticing relationships. The mandala will remain a focal point for centering and inspiration throughout the workshop.
From the sacred space of the mandala, we explore simple water techniques. We will begin with wet wash and observe the principles of primary color mixing. As one can slowly remember a dream, we will use dry wash technique to find and describe form from within our abstract washes.
Throughout the workshop there will be space to honor individual and group process--an ongoing ritual of attention and noticing. By observing the creative process and noticing our relationship to what we create, we can begin to know our own creative voice, the direction of our own sacred spirit.
Workshops can be scheduled to meet the needs of groups who want to work together to create a sense of unity and trust. To find out more about workshop schedules, please use the email connection below.
Top of Page
---
Individual Tutoring with Oils in the Studio
Lynn Zachreson enjoys working with a limited number of individuals in her Santa Cruz Studio. In the Studio artists work to explore techniques with oil. Developing a relationship with painting that allows the image to unfold into it's unique spirit is always the intent of the process. Space and scheduling are extremely limited. If you are interested in working with Lynn in the Santa Cruz Studio, please start a dialog by inquiring through the email below.
---
The fall of 1997 brought the diagnosis of cancer to Lynn's life. She describes the effect of recovery from cancer and it's relationship to her art with the following statement from the Walking the Labyrinth Within workshop at Mount Madonna Center the next spring:
Dear Friends, the season of this past winter brought
me the challenge of cancer and the gift of my healing
path. A journey of dreams, faith, meditation,
vision, and trust carried me along these months. I have
discovered connections between the stepping stones of
my life. The steps I take as a mother, activist, painter,
and dreamer all belong to this path. I return to my work,
and add to the adventure, with Walking the Labyrinth Within.
Walking the Labyrinth Within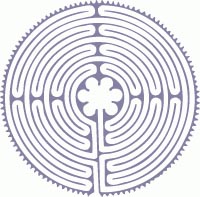 This workshop is created to provide an inner journey. A 36' Labyrinth will be the center piece of the experience. Exploring creativity with watercolor, vocal expression, and movement will augment the experience of the walking mediation of the Labyrinth. The labyrinth is based on the same sacred geometry of ancient labyrinths found in cathedrals throughout Europe. These labyrinthıs were used for spiritual pilgrimage. The Labyrinth is known to invoke an inward journey to the depths of ones own spirit.
More information about the Labyrinth can be found at http://www.mindspring.com/~daniel12/labyrinth.htm
To schedule a Labyrinth Walk or Workshop, please contact the email connection below.
Top of Page
---
Please select any of the items below to return to that section.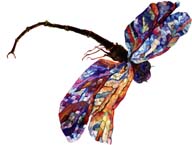 Fine Art Print Order Form
5" x 7"
To complete your order and view all image choices, please scroll to the bottom of this page.

---
Lynn Zachreson
220 Ocean View Avenue
Santa Cruz, Ca 95062
831/426-3428
email@lynnz.com