Other Artists and Organizations to visit: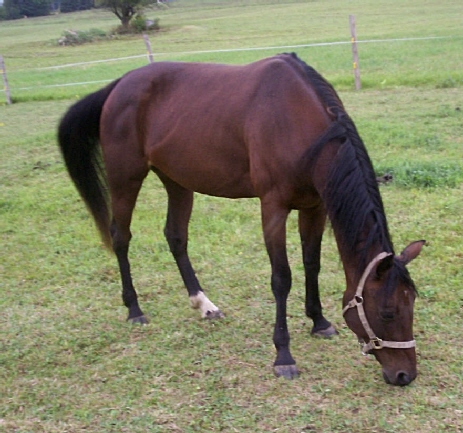 I donate 10% of internet sales to Bright Futures Farms Equine Rescue ~ Click Ella to visit
Ella's Story
I bought Maybe Ella at a breeding farm near Saratoga Springs back in February of 2005. She had harnessed raced for about 8 years of her life. She was a great racer, had good numbers and winnings. After racing for so long, she developed some problems in her legs, like most racers do and had a problem called sesamoiditis. This meant the tendons in her front legs would swell up under intense work. So, Ella retired from racing. Her owners decided to put her into breeding. She had a great personality, raced nicely, was a sound horse...she was perfect for it. However, after 3 breedings, Ella continually lost her foals and became a costly burden to the farm and they had to put her up for sale. I was very lucky to have found her. I fell in love with her as soon as I saw her in the field. The owners assured me that she could be ridden, despite the leg problems, but could not be jumped or put under pressure. To many people, this would make Ella uselss....to me ,she was everything. I bought her that very day. I've had Ella for almost 3 years now and she is my best friend. The sesamoiditis has caused her no prblems at all. We ride whenever we have time to and Ella is a sweet horse that will let nayone on her back. She is a dominant mare who likes to the Queen of the paddock, but is respectful to any human who walks near her. She loves apples and cookies and always greets me at the gate. I'll always have her and be sure her life is safe. I'm grateful to Sue Hooper, her previous owner, for everything she made Ella to be and for loving her first.
Ella's life story is a happy one. One that not many horses get to experience. there are a lot of horses like Ella who are on a throw away list because of leg problems or some other sort of imperfection. They are worth our time, our love, and our protection. Please open your heart to these horses in need and help in whatever way you can to ensure their safety.
I have adopted a throughbred mare from Bright Futures Farm, her name is Horatious and she is a true sweetheart to be around. She is 17 years old and a great companion for Ella.


A Singular Creation
is a one of a kind art community that provides many wonderful resources for artists such as: a unique online gallery, free art opportunities newsletter, art contests and shows, art forums for critique with a user gallery and much more.
Hyperlink
wetcanvas!
Wetcanvas is a huge site for artists of all types. It includes a massive fourm, reference image library, tutorials, and many other things. Very helpful and wonderful site!
If you are interested in doing a link exchange with me, please email me with links as your subject, and we can discuss it.
Home