Pet portraits should capture an emotion as well as a moment in time. An artist cannot convey an emotion they do not know. When a photograph is handed to me, I do not know the animal in the picture, therefore I do not know what kind of expression, behavior, or personality to bring out in the artwork. If not for emotion, we would not love our pets. I need to gather that emotion from you. All pet commissions will start with a consultation, either in person or over the phone. We will discuss what you are looking for in your portrait. I would also like to meet the animal to be drawn. This allows me to see things that may not be apparent in photos and gives me a chance to see their personality. If traveling is required of me to do this, I will freely travel within 50 miles. Anything beyond this, I ask for a travel fee. I also prefer to take the photos myself, if these arrangements cannot be made, some exceptions can be made. Ultimately, my goal is to serve your needs.
~
If I cannot meet the animal in person:
I ask that you take anywhere from 20 to 30 digital pictures of your pet, close ups and body shots, all at a good angle and range and place them on a disk and send it to me. After viewing the images, I will contact you for information regarding your pet. Along with the disk, please send me some information about the pet...example being a playful happy boisterous puppy, or a regal proud elegant arabian....anything that tells me what you are looking to get out of your finished piece.
If the pet has passed away, I will do what I can to help you if you have a limited amount of pictures. It may require more interaction through the process of finishing the piece. Portraits of pets passed on are handled with great respect and sympathy.
~
As an artist, the freedom to create needs to be my own, and with that comes choices that I make myself. I will choose what medium to do the drawing in. I choose to work in graphite more than anything else. It is a unique medium as it does not fade, crack or chip as paints and pastels do. I ask for your trust in my judgements. Ultimately you will receive a finished artwork that is uniquely yours. My desire is for you to be proud to display it as such.
WHY IS ART SO EXPENSIVE?~ Art is a skill that is developed over time. An artist will spend their entire life perfecting that skill, whether they go to school for it or not. When the skill becomes perfected, the amount of time it took must be considered. Valuable time, energy and money went into creating that skill. When you buy artwork from a professional artist, you should feel pleased with your choice. Remember, it is called ART for a reason. :)
PRICES
Time and detail involved in a piece can make the prices vary. I am reasonable and fair with my pricing, I do not wish to oversell or undersell my work and try to make it affordable to everyone.
The prices below are up to 2 animals, if you have more than 2 animals in a drawing, please contact me.
Sizes available:
4X6 - $75.00
8X10 - $200.00 - special $120.00
9X12 - $250.00
11X14 - $350.00
16X20 - $650.00 and up
18X24 - $1,000.00 and up
~Custom sizes larger than 18X24 start at $1,200.00
Pet Characatures - 8x10 - $20.00
Collectable art cards- 2.5 X 3.5 - $15.00 each
Murals - $30.00 per hour
Artwork details:
Graphite and colored pencil drawings are done on Bristol smooth artists board ~ Pastels are done on Canson textured pastel paper ~ Acid Free and sprayed with a finish which seals and protects the artwork. All pieces are signed and dated and will be double matted.
All work is done with attention to details and shading.
FRAMING
I will take the piece to a professional framer at your request. Or frame it myself with a ready made frame. Details and prices vary.
Please email me if you would like further information about commissioning a piece with me.
~ WILDLIFE commissions are also accepted and priced the same way. Consultation is required.
Contact Me
I donate 10% of sales to Bright Futures Farm, Equine Rescue in Pa.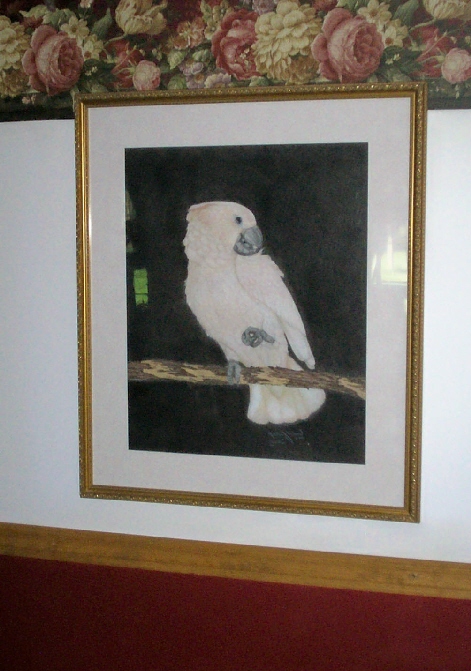 I accept PayPal, personal checks, and money orders ($25.00 fee for returned checks)
Return Policy

If you are not satisfied with your item for any reason, please contact me within 2 days of receiving it so we can discuss the situation. I will offer another drawing if necessary.
Home
Thank You!