About the Artist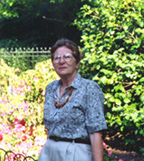 Name: Laura Chirillo

Art Category: Original Watercolor Paintings and Prints


Specialties: Florals, cityscapes, landscapes, seascapes, and national landmarks in the Washington, D.C. area and Europe.

Exhibits, Honors, and Awards: Ms. Chirillo began her professional career in 1969, and received her Fine Arts education at the University of Maryland, Prince George's Community College and Northern Virginia Community College.

Her artwork has won numerous awards, including: Best Artist Award, 18th Annual Court Days Festival, Leesburg, Va.; Best Waterford Scene - The Waterford Foundation Art Exhibition; Vienna Art Society Chautaqua Peoples Choice Award; Twice awarded Best in Show and First Price - The City of Falls Church; First Prize Watercolor - Prince George's County Annual Art Show; First Prize Oil Painting - Prince George's County Annual Art Show; and the Prince George's Community College Purchase Award.

Among her accomplishments are several covers of The Sound of Vienna, and McLean Magazine. Several of her drawings were selected for The Vienna Town Hall Calendar, including the Cover. She twice illustrated the brochures for Meadowlark Regional Park. She also designed the Christmas Card of Freeman Store for the Historic Vienna Society. Also, the Vienna Art Society held a one person art show of Ms. Chirillo's works at the Vienna Town Hall.

Other one person art shows have been held at the Bowie, Maryland Branch Library and at the New Carrollton, Maryland Branch Library. She participated in the Maryland National Capital Parks and Planning Commission's First White Mansion Art Exhibit, and she was honored by being selected by the Prince George's Artist Today Touring Exhibit for display in many of the County's public buildings. Her work has delighted art patrons throughout the United States and Europe.
In July, 2000, Ms. Chirillo's "Red Poppies" was also selected to be a "Featured Work" on the main page of the web site Passion4art.


Current Exhibits: Ms. Chirillo displays her paintings in Washington, D.C. metropolitan area galleries and in private collections as well as her home studio. She also exhibits in local and regional shows. One of the larger collections can be seen at Ft. Myers Officers Club in Arlington, Virginia.