This technique evolved while I was experimenting, or "playing" as I like to call it, during the rehabilitation period following an auto accident. I was unable to function in my normal activities for a period of time, and found it extremely theraputic to play around with "what if" scenarios. I spent many hours in my studio, day after day, giving myself this freedom. A very exciting thing happened when I poured a single line of Unbleached Titanium over a background of black gesso. The freedom of movement in this action so inspired my creative spirit that I simply had to keep applying more lines over lines and colors over colors. The resulting "Night Music I" sat around for a long time before I had the courage to call it finished and show it. Much to my delight, it received a good critique at one of my art group programs, and has become a favorite of mine.
Night Music I, Acrylic on w/c board, 20" x 30"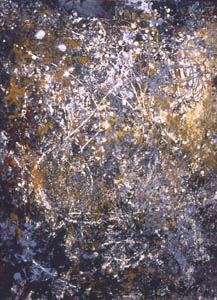 So named because the image spoke to me of the night sky with stars twinkling, viewed thru trees stirred by a soft breeze. The movement of fireflies adds an element to this Night Music created by nature.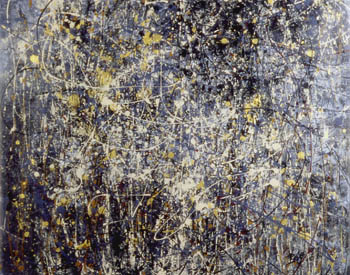 Night Music II, Acrylic on 300 lb. w/c paper, 37" x 31"
Here, the addition of metallic gold added interest to the illusion of starlight.